Pathways to Net-Zero Emissions Industry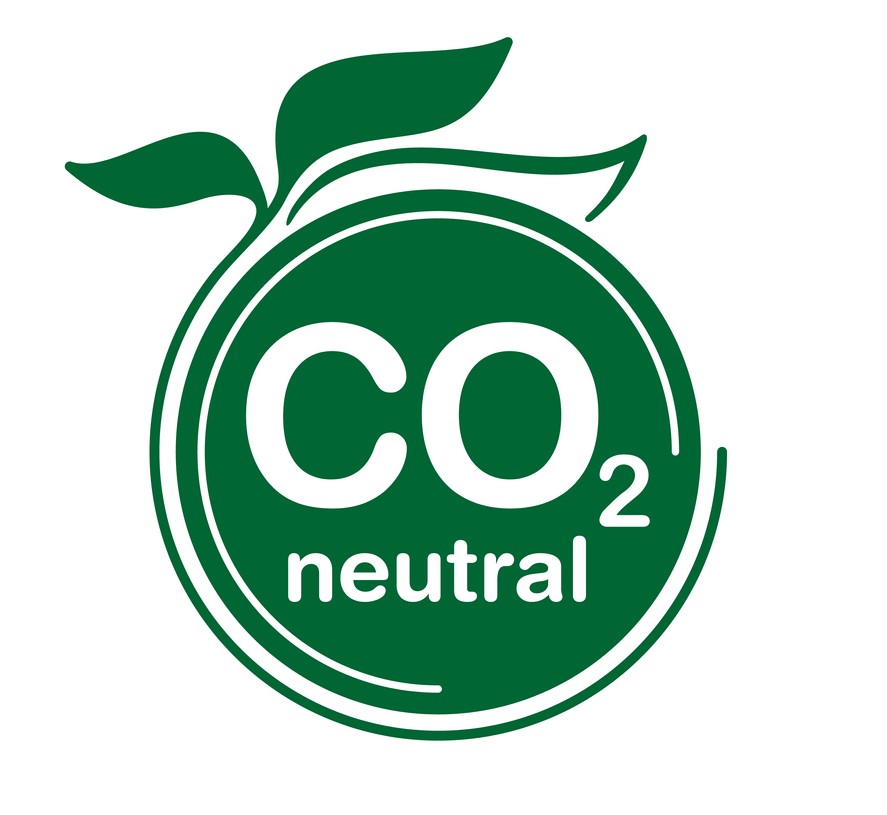 Transitioning to net-zero emissions industry is one of the major challenges of our time but also an opportunity to demonstrate innovative clean energy technologies and new resource management practices. 
We identify opportunities and challenges, assesses potential low carbon pathways, and develops tools and guidelines to streamline adoption of clean technologies and practices. Focusing on emerging economies around the world that are building their cities and infrastructure, we work with policymakers, researchers, and stakeholders to assist in the transition to the industries of tomorrow.
Research Areas
Net-Zero Carbon Pathways
Net Zero Carbon Pathways
The optimal pathway to net zero emissions industry will entail drastic changes across value chains and will include:
Increasing material circularity, resource efficiency, byproduct synergy and waste reduction
Electrification where it is beneficial
Lower carbon fuel (such as renewable-based hydrogen and other bio-based fuels) use, system optimization
Reindustrialization, which will vary across industrial sub-sectors and geographical locations.
The pathway to net zero emissions in industry will also entail new industrial policy strategies and governance, including climate policy, demonstration projects, ambitious target setting, low carbon standardization, green procurement, and transparent monitoring and accounting systems.
We conduct global techno-economic assessments of industrial subsectors and systems as well as country-specific analyses, such as for China and India, with the goal of informing and supporting low carbon pathway development and assessing the potential for new policy implementation.
Our key modeling tools include the China and India 2050 Demand Resources Energy Analysis Models (DREAM), which are demand-driven bottom-up models based on technology-rich end uses which account for materials flow across sectors, and the Industry Sector Energy Efficiency Modeling (ISEEM), which is a linear optimization model of the energy and production systems of industrial products. These modeling tools are used to assess emerging low carbon technological opportunities, evaluate their energy-saving and emissions reduction impact, and identify and support policy decisions. 
By working closely with stakeholders in industry, governments, research institutes, and financing institutions, we aim to demonstrate that the benefits to transition to low carbon industries outweigh the investment costs.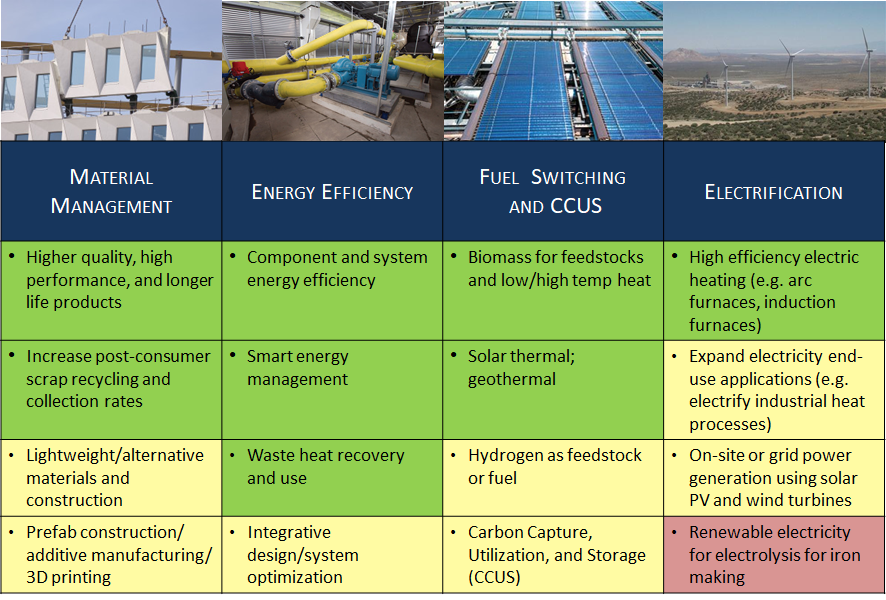 LEGEND: Green: commercialized technologies; Yellow: emerging technologies coming close to commercialization;
Red: emerging technologies still under development 
Circular Economy and Material Efficiency
Circular Economy and Material Efficiency
Encouraging a more circular economy and improving material efficiency are two key strategies with significant carbon dioxide emissions reduction potential but with many barriers to adoption. These strategies require a transformation of the way we make and use products, such as the implementation of innovative product designs, repurposing of waste, the integration of new usage practices and the development of business models that valorize low carbon materials. In industry, this transformation can be achieved by substantially increasing the useful life of products and materials within key sectors, such as buildings and vehicles, and recycling the materials used to make them. 
We develop methodologies and analysis to better account for the embodied emissions in material applications, such as buildings, cars, and electricity generation, and helps streamline the adoption of measures and solutions by working closely with policy makers and identifying applicable policy opportunities to accelerate adoption of circular economy and material efficiency strategies.
Industrial Energy Analysis
Industrial Energy Analysis
ETA researchers have extensive experience developing and applying analytical methods and approaches for analysis of energy use and related emissions in the industrial sector.  Our deep understanding of industrial processes, energy efficiency, innovative technologies, management practices, and standards and policies can support both analytical efforts and on-the-ground technology and policy pilots around the world.  
Sponsored by the U.S. Department of State, ETA's industry team worked with the China Building Materials Academy, the China Cement Association, E3M Inc., and World Resources Institute to conduct energy and energy-related  emissions assessments at 42 cement companies in China. This project developed and tailor-designed three tools for the Chinese cement industry's energy and emission analysis, an online public database, identified 15% of energy-related CO2 emission reduction potential per year, and demonstrated co-processing of alternative fuels and raw materials at six cement facilities. 
Expanding the work from the cement industry, we developed and deployed energy assessment and energy management training for key cross-cutting systems, including process heating and steam systems. Supported by the U.S. Department of Energy and Energy Foundation China, and working with a consortium of U.S. and Chinese collaborators, ETA's industry team conducted training workshops on industry system assessments for a number of Chinese industrial sectors, such as the cement, steel, alumina, pulp and paper, petrochemical, and chemical sectors. 
In addition, our industry team has developed methodologies to compare energy use and energy intensity for the steel sector, and used them to analyze the steel industry in China, Germany, Mexico, and the United States. 
Currently, our industry team is working on developing process-level energy analyses for the most energy-consuming industrial sectors in China, such as cement, chemicals, iron and steel, and petroleum refining.
Interested in Learning More?
Recent Publications
Creutzig, Felix
,
Leila Niamir
,
Xuemei Bai
,
Max Callaghan
,
Jonathan M. Cullen
,
Julio Díaz-José
,
Maria Figueroa
,
Arnulf Grubler
,
William F. Lamb
,
Adrian Leip
,
Eric R. Masanet
,
Érika Mata
,
Linus Mattauch
,
Jan C. Minx
,
Sebastian Mirasgedis
,
Yacob Mulugetta
,
Sudarmanto Budi Nugroho
,
Minal Pathak
,
Patricia Perkins
,
Joyashree Roy
,
Stephane de la Rue du Can
,
Yamina Saheb
,
Shreya Some
,
Linda Steg
,
Julia Steinberger
, and
Diana Urge-Vorsatz
.
"Demand-side solutions to climate change mitigation consistent with high levels of well-being."
Nature Climate Change
(2021).
DOI