Policy Analysis Modeling System
Policy Analysis Modeling System (PAMS) provides robust techno-economic analysis to support energy efficiency standards and labeling programs.
Policy Analysis Modeling System
The Policy Analysis Modeling System (PAMS) is an easy-to-use software tool that helps policymakers assess the benefits of standards and labeling programs and identify the most attractive targets for appliance efficiency levels.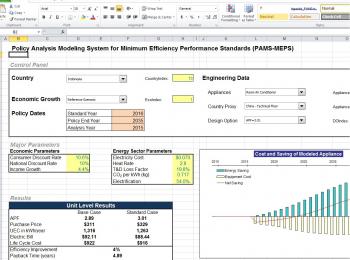 Decision makers — including policymakers, funding agencies, and other stakeholders — need to know the potential environmental and financial impacts of any S&L policy under consideration. This information is essential to prioritizing strategies that maximize benefits for both consumers and governments. Even at the initial stages of policy development, having access to comprehensive estimates of energy savings and monetary costs and benefits is critical.
PAMS is an Excel workbook designed to give first-order policy impacts projections with a minimum of preparatory research on the part of local policymakers. The tool can be used "out of the box" to estimate costs and benefits of different S&L policies for over 150 countries. Advanced users can improve the accuracy of estimates by customizing the tool with any country-specific data that are available.
PAMS is an ideal tool for countries with few technical or financial resources.
PAMS Description
PAMS is a self-contained spreadsheet model that provides both a consumer-oriented analysis and a national cost-benefit analysis in the style of the analysis performed for U.S. appliance efficiency standards. The tool allows policy analysts from many countries to produce a first-cut analysis of appliance efficiency program costs and benefits, examine the sensitivities of the analysis with respect to different policy parameters and assumptions, and continually refine the analysis as more data becomes available.
The methodology is a bottom-up approach, using technical specifications for particular products in estimating the increased cost to the consumer resulting from implementation of particular energy-saving designs. It is designed to operate for the widest possible variety of countries, and with as little need as possible for detailed input data. For more accurate results, it can be easily customized to use the most reliable country-specific data inputs.
The tool calculates the costs and benefits of efficiency standards from two distinct but related perspectives:
The Consumer Perspective examines costs and benefits from the perspective of the individual household or enterprise. The calculation from the consumer perspective is called the Life-Cycle Cost calculation.
The National Perspective projects the total national costs and benefits including both financial benefits, energy savings and environmental benefits. The national perspective calculations are called the National Energy Savings, National CO2 Emissions Reductions and the Net Present Value calculations.
The model has built-in default values for 150 countries and three appliances (room air conditioners, refrigerators, and washing machines). However, with the appropriate set of data, PAMS can be used to model a MEPS for any appliance or equipment. For example, it has been used to model lighting products and industrial equipment.
LBNL also provides technical assistance and trainings to local governments, energy efficiency agencies and/or their contractors on data collection and the use of PAMS-MEPS to support the implementation of energy efficiency standards.
Research Area
Purpose
To inform policymakers on best efficiency targets for minimum energy performance standards.
Audience
Technical staff from regulatory agencies, policymakers, engineers
Languages
English
Manuals